Our wines
Vine has been grown at "Tenuta la Pineta" since ancient times.
The vineyard next to the farm seat, was one of the first to be entered at official register of Chianti DOCG, and part of it is over 30 years old.
The hilly position, at nearly 300 meters above sea-level, the medium texture clay ground, and a very good exposure towards South-East, allow the achievement of high quality grapes, especially after the strict selection made in both vineyard and cellar.

Careful evaluation of maturation level, hand-picking harvest using small cases, and professional cellar work, give few but precious labels, tightly bounded to our territory.
Spèpero
Good matching with appetizers and first courses in general.
Ideal with meats and seafood main courses.

Persimo
Very good with appetizers, soups, seafoods and white meat.

Vigna del Conte
Typical "all meal" wine, good combinations with cold cut meats, structured first courses, white and red meats, medium and long aged cheese.

Sasso Bisciaio
Typical "all meal" wine, good combinations with cold cut meats, structured first courses, white and red meats, medium and long aged cheese.

Il Guido
For grilled and roasted red meat, medium and log aged cheese.

Bronzante
Typical "all meal" Blue cheese, pastries and tarts. Typical cantuccini toscani and similar biscuits. Vary good alone as a conversation wine.


Extra-virgin olive oil
Extra virgin olive oil is a very special product at "Tenuta la Pineta".
There are about 1000 olive trees at the farm, divided into 3 varieties (Frantoio, Leccino and Moraiolo), meticulously cared from skilled staff.
Harvesting is made by hand with the ancient method called "brucatura", in order to avoid possible damaging to olives and trees, and to deliver intact fruits to the oil mill. Cold squeezing, usually made the same day of harvesting, allows the achievement of a superior quality product.

Deep green colour, fruity taste well balanced by spicy notes, characterize our oil, with very low acidity, allowing furthermore a long time lasting.

Honey
Fascinating world of bees and honey production is a family passion at "Tenuta la Pineta" since three generations.
Guido Scortecci begun breeding the laborious insects, in the thirties of past century, reproducing spontaneously the beehives and making honey for domestic use.
Nowadays beehives and production increased, allowing the trade of high quality honey, with excellent organoleptic features, produced by same passion and care of the past.

Regularly available varieties: Acacia, Chestnut and Millefiori Honey.
Acacia honey
Fruity, delicate, vanilla flavor and sweet is good with all kind of cheese, blue cheese, pecorino, ricotta and parmesan cheese.Its delicacy makes it an excellent alter- native to sugar as a sweetener.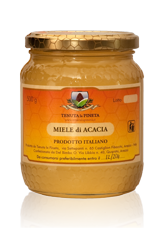 Chestnut honey
Not too sweet, tipically bitterish and tannic. Intense and persistent. Is matched with medium and long aging cheese, though flavor. Laque meat, ice creams and cakes.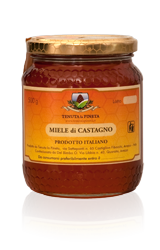 Millefiori honey
Sweet, slightly acid. Fruity, syrup, caramel taste. Not too persistent you can combined with different aging cheese, salads, white meat, fruit salad and ice cream. Very good as milk sweetener.