Cantine Aperte: Peccaminosa Mente
Cantine Aperte will be back on Saturday 28 and Sunday 29 May 2022! Tenuta la Pineta hosts the most important event of the year, presented by Movimento Turismo del Vino! This time the chosen theme is the "Natural Sin". Below is the complete schedule of the event and an introductory note to the artistic exhibition "Peccaminosa Mente" by Alessandro Bernardini.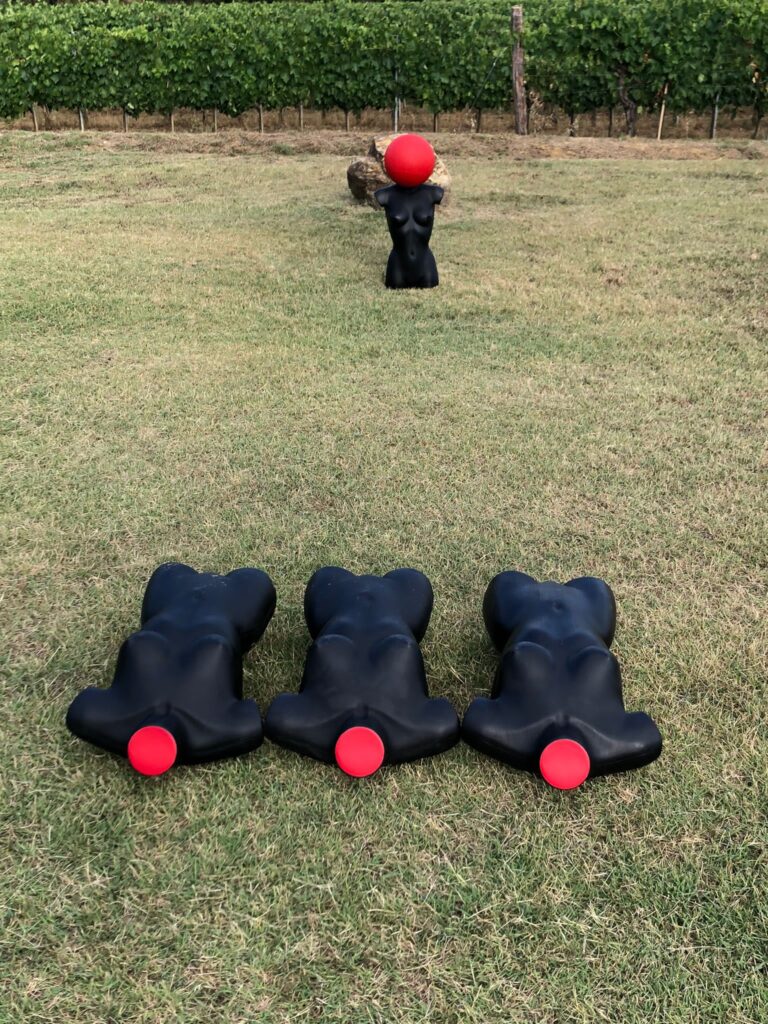 Schedule – Cantine Aperte Peccaminosa Mente
Saturday 28 🍷
15:00
Cellar opening, visits and tastings
16:30 🎨
A "wine and art" experience with Alessandro Bernardini
Sunday 29 🍷
10:00
Cellar opening
13:00 🍇 🥩
Cook out in the vineyard, with David Butcher and Fabrizio Ferruzzi. Detailed menu soon. Alternatively, vegetarian menu available
17:00 🖼 Artistic performance by AB
Info and Reservations – Cantine Aperte "Peccaminosa Mente"
📞 Phone: 0575 477716
📱 Whatsapp: 3348591381
📧 Email: info@tenutalapineta.it
Peccaminosa Mente – Wine and Art Expo – Introduction
Sin represents a constant in human existence, to the point of appearing as a necessary and ineluctable evil. Peccaminosa Mente, the latest project by Alessandro Bernardini speaks precisely about wandering and struggling with temptations.
The artist captures the theme of sin by interpreting it with a series of silhouettes and busts that recall the masses of the damned in Dante's Inferno. Each individual is represented in a different way, just as if they were a unique and unrepeatable subject, characterized by specific vices. There are those who have a weight on their stomach, those who build an unstable structure of colored bricks, those who empty their minds completely and those who cover themselves with dirt to atone for their sins by reuniting hermitically with nature.
Not far away, the artist also depicts subjects who are still completely prey to a sin that imprisons them in a dystopian dimension. Another mass of mannequins is incarcerated inside a severe metal cage, which reminds us of the importance assumed – in Bernardini's philosophy – by individual freedom, the spaces of any one of us and the independence of the human being. The group of sinners in search of salvation is therefore a breathless metaphor that captures the uncertain, claustrophobic and often immoral condition of contemporary man.
On the other hand, as typical of his entire production, the artist does not fail to remind us that every trap necessarily brings with it its escape route. Every chain invariably contains its weak link. Each lock inescapably corresponds to its key. And here the mannequins also remind us the saving guide of a position in the territory, the lively material stability of concrete, the creativity of the human mind and even a solemn collective meditation that unites one figure to another in the common search for a better future.