A Golden Chianti at London Competitions 2023
For an emerging winery like ours, it is always nice and important to tell new successes stories. In recent years, many of our wines have gradually entered the most valuable segment, scoring 90-100 out of a hundred. This time, it is the turn of our Chianti Sasso Bisciaio DOCG which, by obtaining the "gold" medal at London Competitions 2023, becomes our "Golden Stone", a golden Chianti! (Translator's note: the Italian term "sasso" means "stone" in English).
The prestigious London-based jury describes our Chianti with tasting notes that talk about "Some ripe red currants, wild rapsberry on the nose of this red, touches of green herbs, a pleasant nose" as well as a "soft" palate, with "light tannins and a playful feel [that] make this a wonderful everyday red". We are very proud of the recognition obtained and the rich analysis offered by the expert tasters of such a high-value competition, which is also recognized by the wine search engine WineSearcher!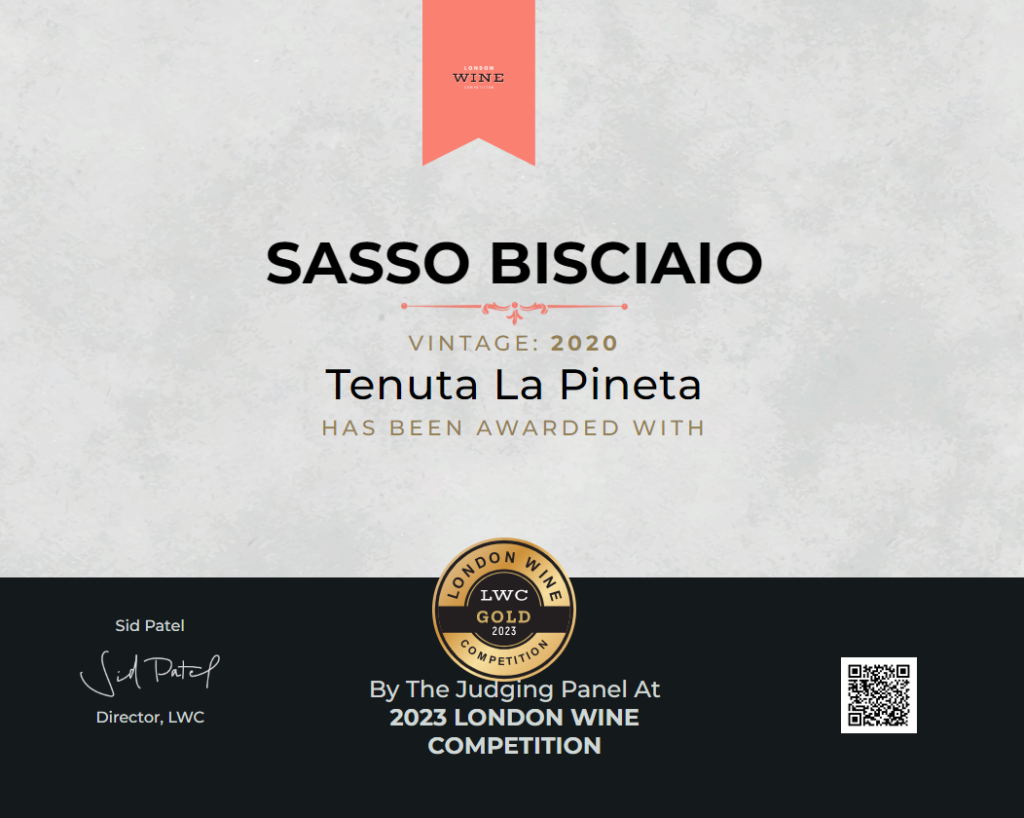 Our History at London Competitions
But let's take a step back, to explain the path that binds us to this important London event and grasp the special significance of the response obtained from this vintage. As Tenuta la Pineta, it was the third time we took part in London Wine Competiton. In 2021 we had a nice start with three silver medals obtained by Bronzante Toscana Passito IGT, Il Guido Chianti Superiore DOCG and Sasso Bisciaio itself (an old vintage) with a score of 87/100. The following year, 2022, saw us enter the golden segment with our two purity wines Canaiolo and M.N. – the Malvasia Nera, Toscana Rosso IGT – which received 90 and 94/100 of evaluation, respectively.
This year, it is our Chianti DOCG that gets the gold medal, a fact which in a sense represents an expansion of the quality of our products, with the top score being reached also by our most sold and quantitatively most consumed label. To interpret this type of progression, we could say that we have gone from a "niche" success to a more widely recognized achievement. Just think that, thanks to our 2020 "Sasso", we own THE Chianti DOCG with the highest evaluation of the whole competition!
It is therefore a far from trivial goal, the one achieved by the 2020 vintage Sasso Bisciaio, which at this point we will remember as a golden Chianti, the first "entry-level" – but it takes boldness even just to use this term – Chianti to reach the "gold" segment. The flip side of the coin (it should be said) lies in the fact that, being our best-selling product, this vintage is already in short supply in our warehouse. There are only a few dozen cases left, so if you too want to taste our golden Sasso before it gets sold-out, the advice is to order it from our online shop, or to book a visit to the cellar. In fact, as those who have already visited us know well, all our wines can be tasted in our Tenuta, and even the award-winning vintages are not excluded from the basic price of the experience!
A Golden Chianti: Conclusion and Acknowledgements
Finally, we thank all those who made this beautiful moment possible. From the natural wealth that we host in the vineyards and from the team that works among the vines, to our cellarman, winemaker and agronomist, who have allowed us a considerable climax of success over time! Furthermore, we thank all of you wine lovers, who with your curiosity, your passion and your encouragement have pushed us to improve some details with each subsequent vintage!
In the world of wine, it is the most infinitesimal factors that make the difference between an average label and an award-winning one. Therefore, feedbacks like the one coming from London make us reason in terms of gratitude, even before surrendering to the due joy and happiness.
Let's say "cheers" and enjoy the last bottles of Sasso Bisciaio 2020, a golden Chianti that we will remember for a long time!